Mit Links! – März 2019: Artikel 13, Torjubel & MySpace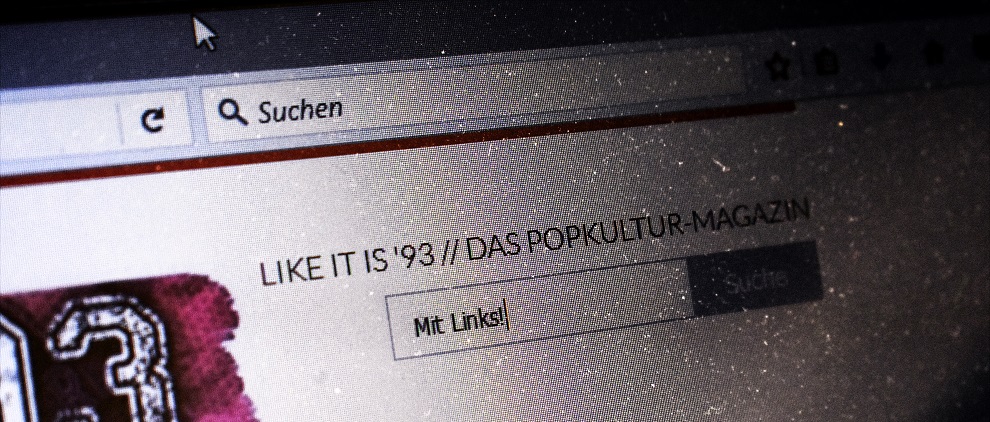 "Mit Links!" fasst alle vier Wochen den Internetmonat kurz und knapp in Links, Verlinkungen und elektronischen Verweisen zusammen.
1. März
Thanos versteckte sich überall.
I couldn't wait. Let's do this. #SneakyThanos https://t.co/qxdQhqZ6wx

— Scott Wampler™ @ CinemaCon (@ScottWamplerBMD) March 1, 2019
3. März
Mario Balotelli streamte seinen Torjubel live auf Instagram.
4. März
Der Musik-Streaming-Dienst eroberte einen neuen Markt: "Spotify India Reaches 1 Million Total Users in First Week"
6. März
Valve entschied sich gegen eine Veröffentlichung auf ihrer Plattform: "Controversial Game Rape Day Won't Be Allowed On Steam"
Er schrieb über die Zukunft seines sozialen Mediums: "Read Mark Zuckerberg's Blog Post on His 'Privacy-Focused Vision' for Facebook"
7. März
Nach der Ausstrahlung von "Leaving Neverland": "Simpsons Episode Featuring Michael Jackson's Voice Pulled From Circulation"
Jeff Amazon und Bill Microsoft freuten sich.
Guys, @tim_cook changed his name to Tim  and it's the most legendary "Tim Apple" sub tweet of all time. pic.twitter.com/p39nYS1mz7

— Alex Whitcomb (@AlexWhitcomb) March 7, 2019
11. März
Für die Videospiel-Verfilmung gab es eine klare Absage.
We're not involved with the movie. https://t.co/Du3wHSHk44

— DOOM (@DOOM) March 11, 2019
Eine sinnvolle Challenge erreichte das Internet.
Die Staatsministerin für Digitalisierung sehnte sich nach Austin zurück.
Twitter an – Deutsche in der Timeline lesen – sich wieder zurück nach Austin wünschen – Twitter aus

— Dorothee Bär (@DoroBaer) March 11, 2019
12. März
Zum Geburtstag machte er sich Sorgen: "30 Jahre World Wide Web: Tim Berners-Lee sorgt sich um seine Erfindung"
13. März
Eine Zuschauerin unterbrach das Morgenmagazin.
Was war denn da los? @ZDF @morgenmagazin #Morgenmagazin #Moma pic.twitter.com/nUuZeUr1jh

— Michael Ziesmann (@M_Ziesmann) March 13, 2019
Facebook und Instagram waren stundenlang nicht erreichbar.
Me trying to refresh instagram for the past 2 hours #instagramdown pic.twitter.com/ttbXXwDdPg

— Itsmeecaaat (@Catheri74382887) March 13, 2019
15. März
Fans freuten sich über einen Rückkehrer.
JAMES GUNN IS BACK AS DIRECTOR OF GUARDIANS OF THE GALAXY VOL. 3'S DIRECTOR!!!! pic.twitter.com/6dYujmyLx2

— NOEL・NIIHASHI@Weekly JUMP (@NiNiihashi) March 15, 2019
Viele Nutzer sahen keinen Grund mehr dort zu sein: "Users ditch Tumblr following porn ban"
17. März
Die sozialen Medien standen in der Kritik: "Facebook has removed 1.5 million videos of the New Zealand shooting, but questions remain"
18. März
Alle Songs verschwanden auf einen Schlag: "MySpace Loses 12 Years of Music"
19. März
Die Gaming-Industrie bekam einen neuen Mitspieler: "Google Stadia's Only Hardware Is This Special Controller"
21. März
Aus Protest gegen die europäische Urheberrechtsrichtlinie war Wikipedia nicht erreichbar: "Ein Tag Sendepause"
Er stellte seine Ahnungslosigkeit zur Schau: "#axelsurft: EU-Politiker Axel Voss blamiert sich mit Meme-Aussage – und wird selbst zum Meme"
24. März
Jordan Peele feierte einen großen Erfolg: "'Us' Sets Box Office Record for Original Horror Film"
25. März
Das Interesse war riesig: "'Stranger Things 3' Trailer Becomes Netflix's Most-Viewed YouTube Video"
Der Tech-Konzern startete die Großoffensive: "Apple Owns Your Life With Apple Arcade, Apple News+, Apple Card, and Apple TV+"
26. März
Artikel 13 wurde beschlossen: "Urheberrechtsreform: EU-Parlament winkt Upload-Filter und Leistungsschutzrecht durch"
29. März
Hannah Montana kehrte zurück.
— Miley Ray Cyrus (@MileyCyrus) March 29, 2019
30. März
Elon Musk ging unter die Rapper.
31. März
Er gab die YouTube-Krone ab: "PewDiePie admits defeat to T-Series"